Description
The Focusrite Clarett+ 4Pre Audio Interface 18-in/8-out audio interface from Focusrite is a solid basis for any studio or mobile recording setup. It has four great-sounding Clarett+ microphone preamplifiers, enhanced conversion, an excellent dynamic range, and USB-C-enabled ultra-fast, low-latency performance. The Clarett+ 4Pre's magic begins the moment you connect in your mics — the mic preamps incorporate Focusrite's switchable Air effect, which activates an analog copy of Focusrite's iconic ISA transformer-based mic pre. The Focusrite Clarett+ 4Pre is ready to fit into practically any recording setup thanks to its versatile connection, which includes analog and S/PDIF I/O.
Everything you need in a preamp/interface
The Clarett+ 4Pre's four newly designed mic preamps deliver a truly impressive dynamic range. Perfect for your home recording rig, the Clarett+ 4Pre gives you flexible connectivity — including analog, S/PDIF, and MIDI I/O, plus an ADAT input — all in a sleek desktop form factor. With its sonic performance, leading-edge round-trip audio latency, and ease of use, the Clarett+ 4Pre is an excellent value.
Use your favorite plug-ins in real time
With the Clarett+ 4 Pre's exceedingly low round-trip audio latency over USB-C, you can record and monitor in real time with your favorite DAW plug-ins. No special processing or DSP is required. Select any plug-in and create your dream recording chain on every single channel. Every Clarett+ ships with the Focusrite Classic Red 2 and Red 3 AAX, AU, and VST plug-in suite, which accurately models Focusrite's classic Red range EQ and compression hardware.

Newly designed Focusrite mic preamps bring your recordings to life
Focusrite fitted the Clarett+ 4Pre with mic preamps that were designed exclusively for the Clarett+ range with loads of pristine gain and vanishingly low noise. In addition, these preamps include the proprietary Air feature that switches in an analog model of Focusrite's acclaimed classic transformer-based ISA mic pre, breathing life into your recordings. If you've always wanted vocals that shimmer with presence and silky air, then try recording with the Clarett+ 4Pre. You will undoubtedly be impressed.
Accurate digital conversion
Sound engineers know that conversion is key to superior digital audio, and every Clarett+ features the latest in Focusrite's class-leading 24-bit/192kHz conversion. Offering an expanded dynamic range and higher signal to noise ratio than previous models, the Clarett+ is the cleanest way to get sound in and out of your DAW.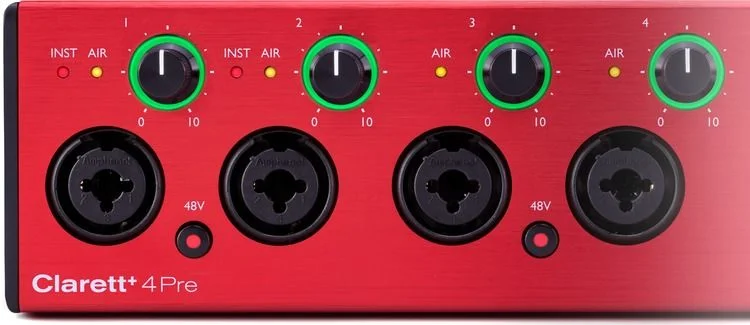 Track the band in a single take
The Focusrite Clarett+ 4Pre provides flexible I/O packed into a tidy desktop chassis. This includes four front-panel mic/line inputs (the first two of these are also instrument inputs), and on the real panel, four analog line inputs and outputs, stereo S/PDIF I/O, and eight channels of ADAT optical input. The ADAT input can be used to bring in eight additional digital mic preamp channels, such as the Focusrite OctoPre, for maximum flexibility. The front panel also includes two convenient headphone jacks with level controls.
Expand whenever you need to
Focusrite gave every Clarett+ interface an ADAT input to enable eight digital mic preamp channels for optimum versatility. A digital 8-channel mic pre like the Focusrite OctoPre is ideal for recording drumming.

Focusrite Control software
Focusrite Control, a software mixer included with your Clarett+ 4Pre USB, simplifies monitoring and routing settings on Mac, PC, iPad, and iPhone. This provides a straightforward classic mixing workflow and instant access to core hardware functionalities.
Remote control from your iPhone or iPad
With the free Focusrite iOS Control app, you can adjust the mixes you made with Focusrite Control on the desktop app from your iPad, or iPhone.

Plugged in and ready to rock
This Clarett+ interface's specific inserts let you track across your favorite rack gear. All Clarett+ interfaces contain the Hitmaker Expansion, a studio-grade software package with sophisticated mixing plug-ins and virtual instruments. Abelton Live Lite and a 3-month Avid Pro Tools Artist membership are included.
Included Hitmaker Expansion Pack software bundle:
Antares Auto-Tune Access
Relab LX480 Essentials
Softube Marshall Silver Jubilee 2555
XLN Audio Addictive Keys
XLN Audio Addictive Drums 2
Brainworx bx_console Focusrite SC
Focusrite Red Plug-in Suite
Landr Studio (plus five free masters)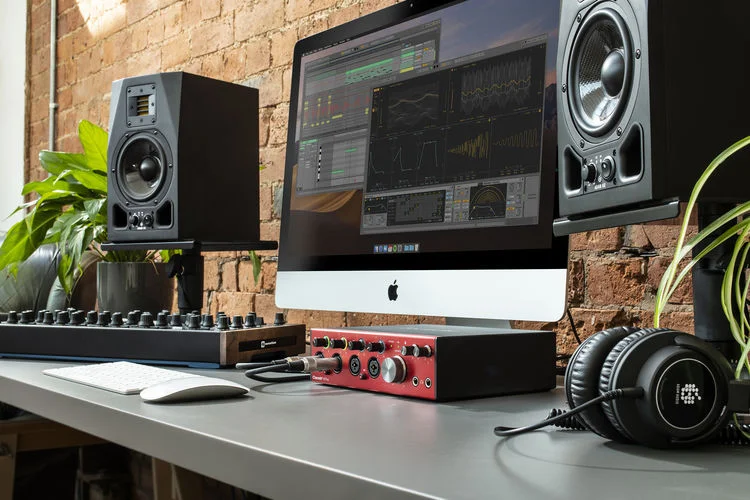 Focusrite Clarett+ 4Pre USB-C Audio Interface Features:
4 Clarett+ mic pres with Air circuit
Copious headroom, vanishingly low noise
Focusrite's proprietary Air feature
Focusrite's upgraded 24/192 conversion and sync
Flexible I/O with ADAT input for expansion of up to eight more inputs
"Gain Halo" metering provides clear indication of levels to avoid clipping
Intuitive, easy-to-use Focusrite Control software mixer makes short work of configuring your monitoring and routing and gives you quick access to internal hardware functions
Record and monitor in real time with your favorite DAW plug-ins
Create custom monitor setups for both you and your artists
Included software from Focusrite and Brainworx
4 front-panel mic/line inputs with phantom power
The first 2 combo connectors are also hi-Z inputs
4 rear-panel 1/4-inch line inputs and outputs
Stereo S/PDIF I/O, ADAT input (8 channels), MIDI I/O
Pairs perfectly with the Focusrite OctoPre
3-year warranty
With a commitment to provide  top-notch customer service and competitive prices, Audio Shop Nepal is the go-to destination for many audio enthusiasts in Nepal looking to purchase Focusrite products.