Description
Built for Raw Power and Premium Audio
Mackie's Thrash Series speakers don't mess around. Hardwired for searing guitars and powerful vocals, this Built-Like-A-Tank loudspeaker provides 1300 watts of ultra-efficient power to keep your gigs going strong. The next in line from a long legacy of legendary loudspeakers, the Thrash 212 12-inch High-Definition Active SR Loudspeaker makes plugging in and getting down to business easy with no-fuss I/O connections. With a commitment to providing top-notch customer service and competitive prices, Audio Shop Nepal is the go-to destination for many audio enthusiasts in Nepal looking to purchase Mackie products.
Premium sound, hassle-free connections, and lightweight construction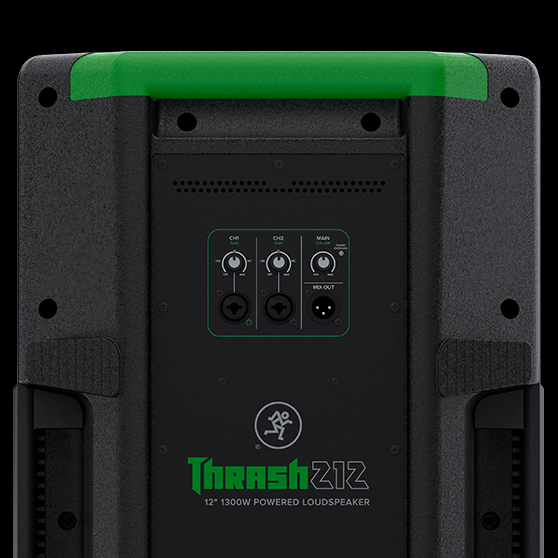 Wondering how the Mackie Thrash gets its premium sound? Under the hood, you'll find a high-performance woofer and titanium compression driver that'll take your sound to new heights. Not to mention, given its lightweight build, carting this loudspeaker around won't break your back. Dual inputs provide XLR/TRS combo inputs for hassle-free connection. Metal bands, rock 'n' rollers, or rowdy spelling bees, the Thrash conquers all.
THE POWER TO PERFORM
If you are a band that is ready to gig or even upgrade your rehearsal space, Thrash is ready to make it happen.
THE SOUND OF ROCK
Thrash is voiced to make your voice and instruments cut through in loud basement shows, garage rehearsals, and dusty old venues.
NO FUSS I/O
Want to plug in, crank it, and get playing? Thrash won't get in your way. Dual XLR/TRS inputs plus a Mix Out are easy and versatile for connecting to your gear. You can even connect a microphone directly into either input when you just need simple vocal reinforcement.
TAKE THE HEAT
When things get hot, the automatic thermal limiting within Thrash will keep things in check so you can focus on your performance.
Mackie Thrash 212 1300-watt 12-inch Powered Loudspeaker Features:
Built-Like-a-Tank powered loudspeaker with Class-D amplifiers
Made to pump out powerful sound
High-performance woofer and titanium compression driver
Lightweight build for easy transportation
Dual inputs for XLR/TRS combo
Thermal limiter
Can be used as a floor monitor with dual-angle monitor wedge
Features four handles