Description
In a footprint of less than 2 square feet (0.19 m2), the compact, 16-channel Presonus Studio Live 16.0.2 offers 8 mono input channels and 4 stereo channels and provides 12 XMAX Class A solid-state mic preamps.The Presonus 16.0.2 is jam-packed with features and processing power, employs the same workflow and easy-to-use mixing-surface design as the bigger StudioLive boards, and sounds every bit as good, with the same high-definition, wide-dynamic-range, digital converters.
The 16.0.2 integrates a 16×16 FireWire interface and comes with Capture, Studio One Artist recording and production software, and Virtual StudioLive, bidirectional control software, and it works great with our free SL Remote iPad and iPhone control apps.
The 1602's Fat Channel is well stocked with compressors, limiters, gates, phase reverse, high-pass filters, and 3-band semi-parametric EQ. Two stereo, 32-bit floating-point effects processors deliver delay and reverb effects.
The StudioLive 16.0.2 also offers MIDI In and Out. You can recall Scenes from a DAW using MIDI Program Changes, control the main output volume and effects level, and even mute effects between songs—all thanks to the magic of MIDI control.
Pristine preamps for stellar recordings
The StudioLive 16.0.2 USB gives you 12 crystalline XMAX Class A mic preamplifiers (13, if you include the talkback), 16 line inputs, 4 aux mix buses, and MIDI I/O. Now throw in a 16 x 16 USB interface and PreSonus's acclaimed Fat Channel signal processing, and you've got a seriously flexible solution.
Fat Channel processing gives you access to:
A highpass filter on every channel and aux send
Phase reverse for each channel strip
Gate, compressor/limiter, and 3-band parametric EQ for each channel, aux output, FX bus, and main output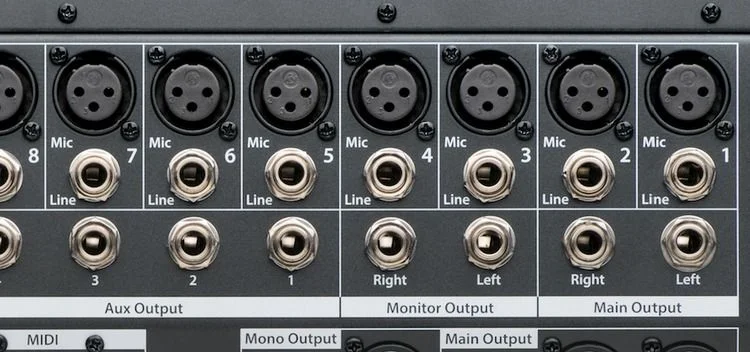 Onboard effects help you say goodbye to your live sound rack
A treasure trove of onboard effects give you the tools to artfully sculpt your musical inspirations. PreSonus has armed the 16.0.2 with two programmable 32-bit floating point stereo DSP effects engines packing 50 reverb, delay, and time-based effects presets. The reverbs sound opulent and highly detailed, the delays are precise, and the slap echo harkens back to good old tape delay. On top of all this, you get a 31-band stereo graphic EQ strapped across the main outs, enabling you to adjust for room acoustics and loudspeaker response.

Wirelessly control your aux mixes with your iPhone or iPod Touch
PreSonus StudioLive mixers feature QMix, which lets you control your mixer's aux sends from up to 10 Apple iPhones or iPod Touches! You can even let performers create their own custom monitor mixes from individual iPhones. With the Wheel of Me, you can choose multiple Me channels and tweak their levels simultaneously. All you need is a Mac or PC running PreSonus Virtual StudioLive software.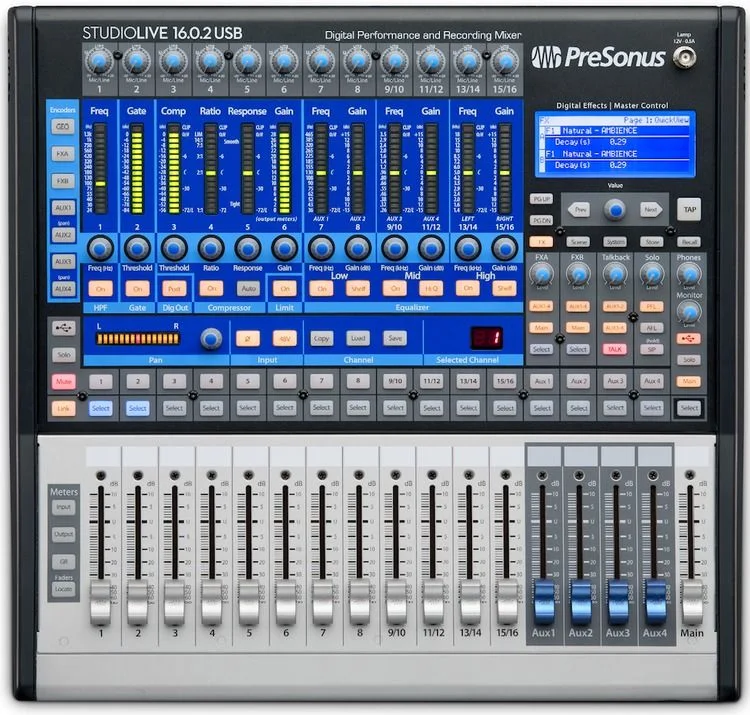 Fat Channel helps you achieve a great sound fast
To give you effortless access to all this processing power, the Fat Channel has clearly labeled physical knobs, a slick multifunction 16-ladder LED display, highly visible Selected Channel readout — and even a separate horizontal pan display. Visible feedback always lets you know what's going on. And so you don't have to remember a zillion-and-one settings, StudioLive never forgets. Store and Recall let you save Scenes that include every setting across the board. Or save just the Fat Channel settings. Copy and paste settings across multiple channels and buses or save individual DSP effects. Fine-tune Scenes for different songs and call them up in an instant. All of these features mean that for fixed applications like clubs, churches, or auditoriums, you can always count on getting the same sound.

iPad Wireless Remote Control is convenient both onstage and in the studio
Let's talk about iPad remote control. StudioLive Remote gives you real-time wireless remote control over Virtual StudioLive, which in turn offers real-time control over your StudioLive mixer. There's a lot of technology under the hood, but to you, it's quite transparent: a wireless connection between your iPad and computer (which is connected via USB to the 16.0.2), gives you total control over your mixer. Check the mix under the balcony and in the mezzanine, rebalancing on the fly. Tweak the stage monitors from — you guessed it — the stage. Go ahead — move freely about the venue, enjoying your newfound independence.
StudioLive Remote offers four discrete views: Channel, Aux, Fat Channel, and Graphic EQ (with draw-by-finger EQ curves). Input levels in real time. Scroll through all your input channels. Switch channels seamlessly. Awesome, but what if you wear both performer and sound mixer hats, and your hands are busy playing your instrument? Simple: just use a MIDI footpedal (or DAW) to control your Main Output volume, Effects parameters, and Scene switching.

Superb software package included
Your purchase includes Studio One Artist and everything you need to start recording via your computer. Plus, to take your recordings to the next level, you get the Studio Magic plug-in suite. This extensive collection of popular plug-ins includes emulations of classic studio gear from legendary manufacturers, adding hundreds of dollars in extra value. Punch up your mix bus with the Brainworx bx_opto compressor, add ambient reverb with Lexicon MPX-i Reverb, fire up transients with SPL's Attacker Plus, and much more. And since these plug-ins are available in AAX, VST, and AU formats, they're compatible with any DAW.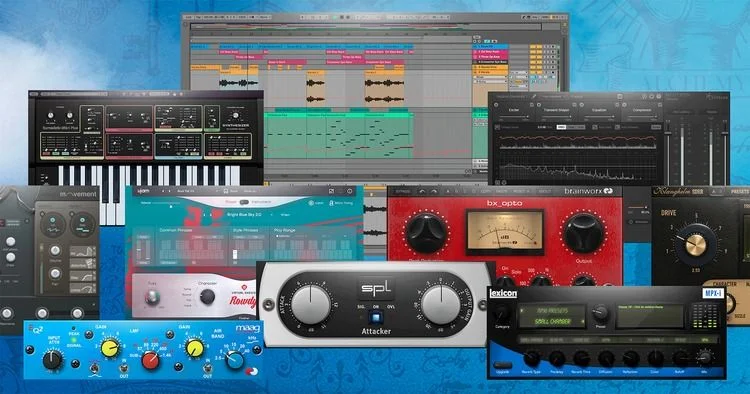 PreSonus StudioLive 16.0.2 USB Digital Mixer Features:
16 channel inputs (8 mono input channels and 4 stereo channels) with 60mm faders
13 Class A XMAX solid-state mic preamplifiers (12 channels + talkback)
4 auxiliary buses (pre/post-fader send) and 2 internal FX buses
2 stereo 32-bit digital effects processors
QMix wireless aux mix control software for your iPhone and iPod Touch
Fat Channel signal processing on all channels and buses
3-band semi-parametric EQ for each channel
Dynamics: gating, compressor, downward expander, and limiter for each channel
Stereo, 31-band graphic EQ on the main bus
16-in/16-out USB 2.0 recording interface (24-bit/44.1kHz and 48kHz)
Scene and individual settings store and recall
Includes Studio One Artist DAW software
Packaged with the complete Studio Magic Plug-in Suite — a collection of awesome plug-in emulations of classic studio gear
With a commitment to provide  top-notch customer service and competitive prices, Audio Shop Nepal is the go-to destination for many audio enthusiasts in Nepal looking to purchase Presonus products.