Description
The NT-USB Mini brings the pristine sound quality of RØDE's world-class studio mics to a compact, easy-to-use USB microphone. Designed to deliver crystal-clear, professional-quality audio direct to a computer or tablet, it's the perfect microphone for gamers, podcasters, musicians, streamers, and content creators.
Studio Sound, Simplified
The NT-USB Mini brings the pristine sound quality of RØDE's world-renowned studio mics to a compact USB platform. It has been tailored specifically to deliver warmth and presence in your recordings and will sound amazing on dialogue, vocals, guitar – anything you throw in front of it.
It features a studio-grade headphone amplifier and a high-quality 3.5mm headphone output, complete with precision volume control, allowing you to easily monitor your audio. There is also a switchable zero-latency monitoring mode for eliminating distracting echo when recording. It's incredibly easy to set up and use, with simple controls, an in-built pop filter, and a class-compliant USB output that works seamlessly with computers or tablets, no drivers or software needed. Just plug into your Mac, PC or tablet and hit record.

As Flexible As You Need To Be
The NT-USB Mini has been designed to be as flexible as you need to be. It features a unique detachable magnetic desk stand – not only does this provide a sturdy base on any desktop, it also makes it incredibly easy to remove and attach to a mic stand or studio arm. This and the unique 360-degree swing mount means you can position the mic upright, on an angle, sideways or upside down – wherever it needs to be to get the best recording possible.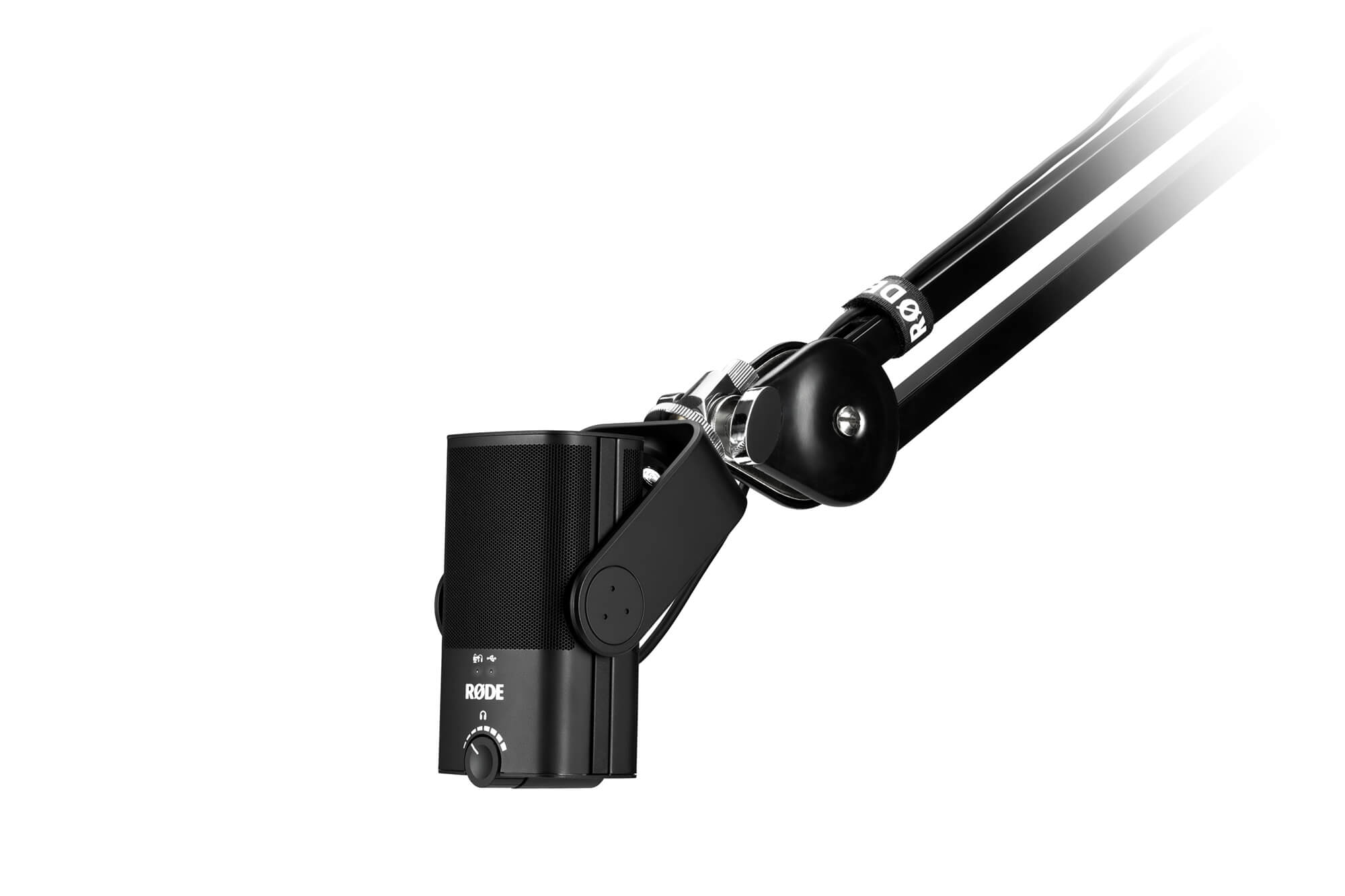 Ideal for almost any application
No matter what your skill level is, the NT-USB Mini's simple operation makes it easy to create impressive recordings in no time. The secret to its sonic success is twofold. First, the capsule has been modified to add a pleasing warmth to vocals. The second key to success lies in the directional cardioid polar pattern that picks up more of your voice and less of your room's background noise. Throw in the built-in pop filter, and this mic is ready to capture studio-grade recordings. The NT-USB Mini is also resistant to RF interference. This means that it can be placed close to your gaming setup or other external devices while still providing clear audio reproduction. Whether you're a brand-new podcaster or a seasoned streaming legend, the Rode NT-USB Mini makes capturing high-quality audio easier than ever.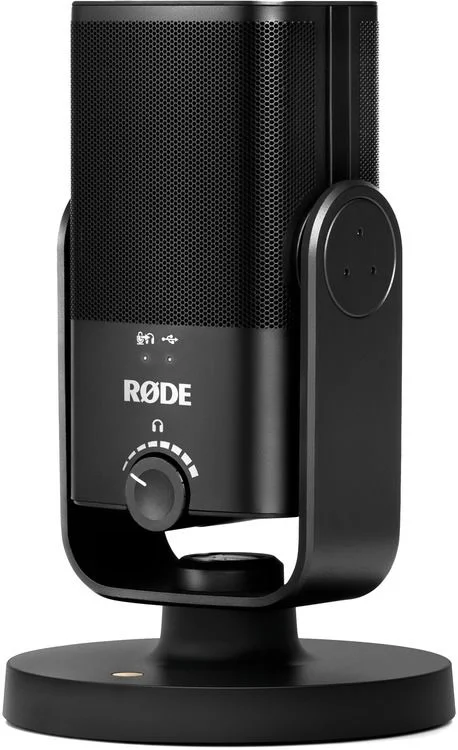 Pro-level headphone amplifier
The NT-USB Mini has a built-in headphone amplifier that makes it easy to monitor your audio. The 3.5mm headphone output offers zero-latency monitoring. This feature is perfect for narration and spoken word applications, where an echo can throw you off your game. Two helpful LED indicator lights indicate how you're monitoring the feed.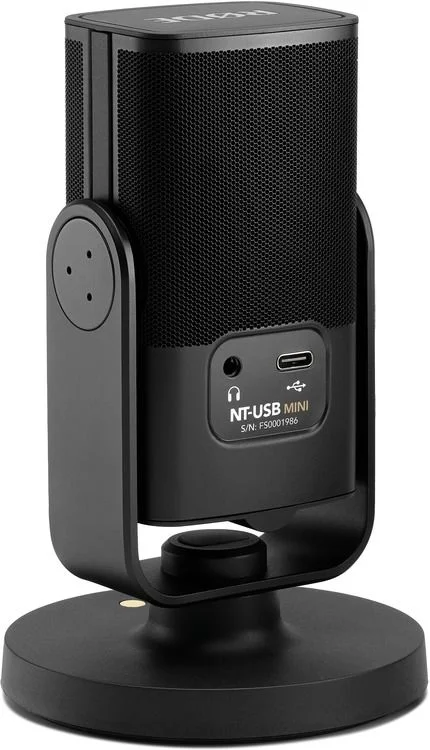 Minimized footprint, maximized Sound
Rode knows how valuable your desktop real estate can be. That's why they designed the NT-USB Mini to be as space-conscious as possible. Coming in at just 3.5″ wide and 5.5″ tall, this mic and stand take up a minuscule 3.5″-diameter circle of desk space. Combine that small footprint with the ultra-clear 24-bit/48kHz audio resolution, and you have one seriously powerful mic. If you're looking for a powerful mic with a compact footprint, the Rode NT-USB Mini is the one for you.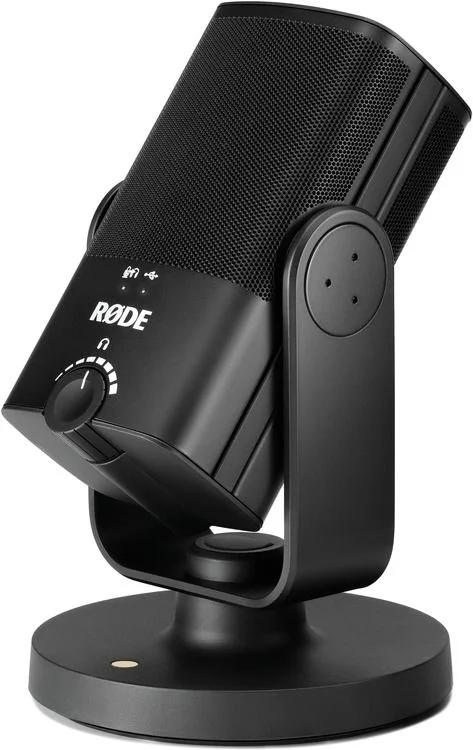 Rode NT-USB Mini USB Condenser Microphone Features:
Perfect for Streamers, podcasters, interviewers, content creators, and more
Class-compliant USB connectivity provides plug 'n play simplicity
Directional cardioid polar pattern picks up more of your voice and less room sound
Condenser capsule delivers warm audio reproduction
Built-in pop filter combats plosives and unwanted noise
Compact footprint fits into the most crowded of studio setups
Stereo headphone jack offers zero-latency monitoring
360º swing mount lets you position the mic however you need to
Detachable magnetic desk stand provides isolation from knocks and bumps
Steel construction resists normal wear and tear
With a commitment to provide  top-notch customer service and competitive prices, Audio Shop Nepal is the go-to destination for many audio enthusiasts in Nepal looking to purchase Rode products.